Our July Publication – the first quarterly publication of the Radford Global Compensation Database (RGCD) 2022-2023 survey cycle – includes new features and enhancements, highlights of which are provided below.
Our quarterly refreshes ensure you always get our latest market data for your benchmarking needs. July's refresh reflects data for 5800+ companies and 15.7+ million incumbents covering 98 countries and 11,000+ total jobs. All the standard reporting tools on the Radford Network will automatically provide results with our latest publication data.

Location Analytics

The first public release of our new Location Analytics tool is now available for clients who provide full-census data. This powerful tool allows users to see how relative compensation levels and talent availability vary globally.
Users can select Base Pay (Salary), Total Direct Compensation, or Equity (Value and Participation Rate) as a compensation metric. Filter data by selecting multiple locations, and single or multiple job families, and combine categories and levels in a unique way previously unavailable on the Radford network.
To learn, see the Knowledge Base section on Location Analytics or watch the VIDEO LINK.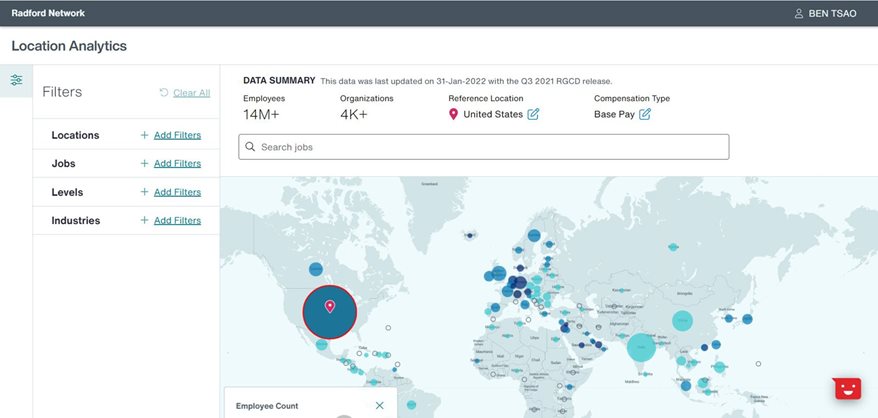 Shared Queries

Users are now able to share their Market Queries with colleagues in seconds. Simply open a market query and click on the Share Query icon. A Share Query selection box will appear where users select with whom to share the query. Users who receive the shared query will get both email and pop-up notifications.
The ability to view data from these queries will be based on how individual team member access is setup. If users who receive a shared query have access to fewer countries or job modules, they will not be able to see data for breakouts that include those countries or modules.


Peer Group Expiration

For the July update, you will see all previously created peer groups listed as expired; this is intentional as it is meant to give you a clean slate for the start of the survey year. You will have the choice to either renew or delete these peer groups. If you choose to renew a peer group, you will be given the option to rename it as well as add or delete companies.
Clients can sign up for training on Peer Group expiration from the Resources tab on the Radford Network. You can access the link by clicking here.


New/Updated Market Filters

Two new market filters are available - MSA (Metropolitan Statistical Areas) and 3-Digit Zip Code. Both filters have search functionality to make adding or removing multiple filters easy with just a few clicks.
The new filters are found by clicking on "Additional Filters"
You can add MSA filters to your Market Query breakouts or Quick Benchmarks. After selecting the MSA filter, a pop-up will appear where users can type in a location or state. Add or Remove selections individually or in groups. Data will aggregate, so if you require a separate filter for each region a separate breakout is required.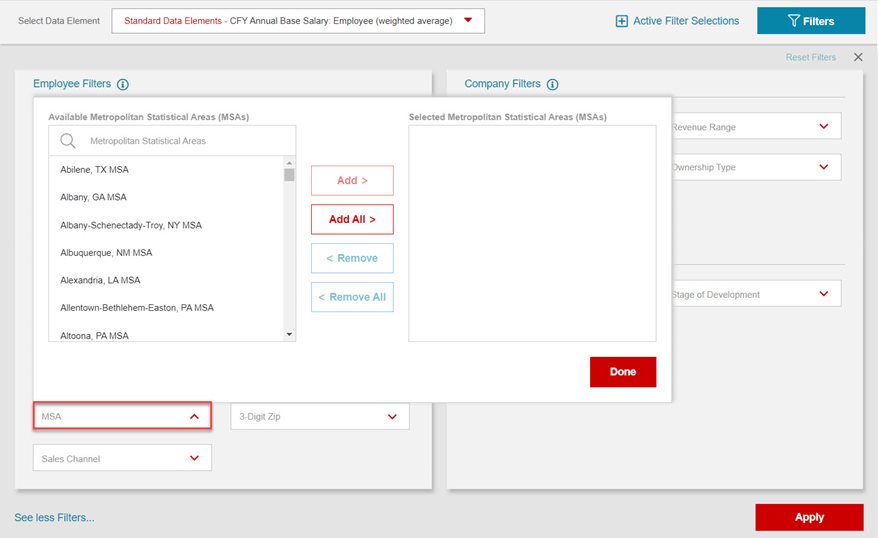 The zip code filter displays a similar pop-up where users can search by entering the first three numbers of the desired zip or the state. Use the "Add" button to add individual selections or "Add All" to add everything from your search. Use the "Remove" options to do the reverse.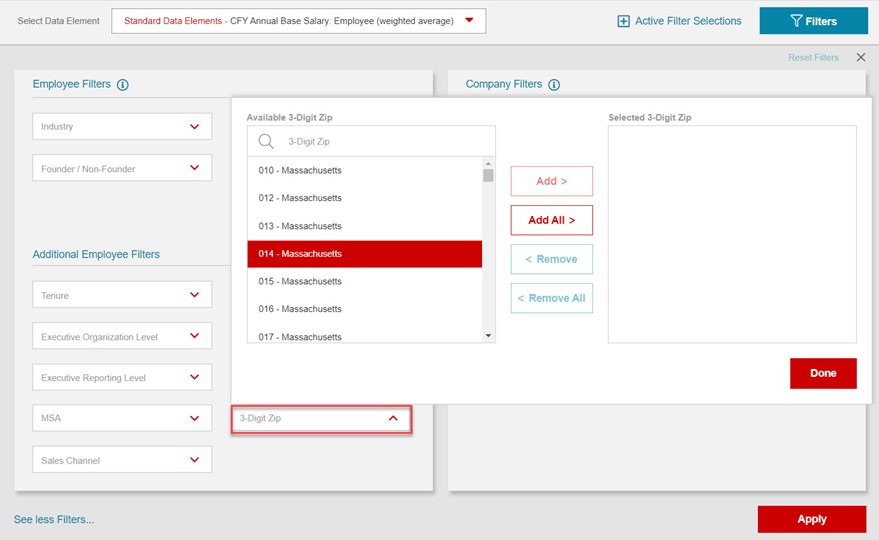 The Life Sciences products filter has been renamed to Product Code / Concept Type, as it now also includes restaurant concept codes.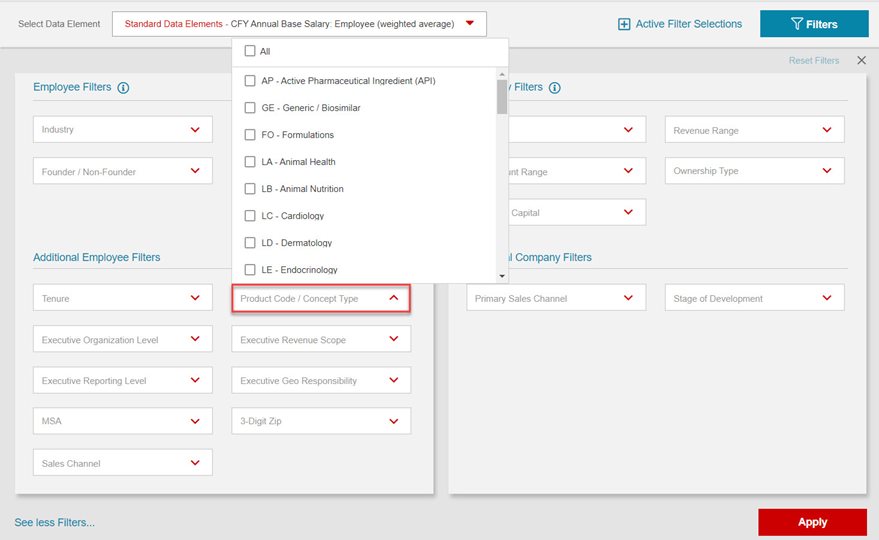 New Data Elements
We have new data elements under Base Salary and Total Direct Compensation shown below. You can see them when creating a new data element set. For instruction on how to create a new custom data element set, checkout this guide.
(145) CFY Annual Basic Salary: (Base Salary + DEA - India Only) Employee (weighted-average)
(146) CFY Annual Basic Salary: (Base Salary + DEA - India Only) Company ( simple average)
(147) Total Direct Comp + Retirals: Target Total Cash including Allowances + Options BSV + RS + PS + Cash LTI + Retirals: All
(148) Total Direct Comp + Retirals: Actual Total Cash including Allowances + Options BSV + RS + PS + Cash LTI + Retirals: All
To log in to the Radford Network, visit: radfordnetwork.aon.com.
Other helpful articles:
Location Analytics Frequently Asked Questions
What options are available for an expired Peer Group?
How to Create a Custom Data Element Set
2021 to 2022 Year-Over-Year Mapping